RGSB105 Synthetic Fiber beater sheet with tanged metal double face is made from RGSB104 by 0.2~0.25mm carbon steel tanged sheets on both sides.
Synthetic Fiber Beater Sheet Reinforced with Double Tanged Sheet
Item no.: RGSB105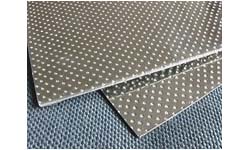 Dimensions
500x1000mm; 500x500mm
Thickness: 1.2~2.5mm.
More information about the Synthetic Fiber Compression Sheets, please contact with RGS.